menu haut
Workshop Secrets
13/01/11
La fabrication
When hand-throwing an Anduze you must shape up the clay in three steps prior to considering decoration. Needless to say that learning the tricks of the trade takes years of practice which explains why only few potters continue to perpetuate this noble tradition.

We generally pre-shape very large dimension planters in plaster molds ; this step is called Calibrating .

The Decoration stage consists of surfacing the planter, setting and leveling the base, hand-stamping the decors to set them on the planter's body and personifying each dated piece.

Once sufficiently dry, after several days, the clay has a "leather touch" and it is time to proceed to the very important stage of Enrobing consisting of applying a primer made out of white liquid clay which covers the main body of the planter.

Finally, our planters will be undergoing a natural drying phase.
Once dried up, the planters will be glazed and placed into the kiln to be fired at temperatures over 1000 Celsius degrees for 40 hours.
The traditional Anduze are famous for their green, brown and straw hat yellow streaks of colors. Mixing copper oxide (green) and manganese (brown) to the glaze will provide us with 2 different mixtures, spread manually across the planter, following a characteristic pattern which imitates flames. Finally, transparent glazes will cover-up the planter and reveal the straw hat yellow natural color of the enrobing primer. Do not be fooled by the grey color of a glazed planter prior to be fired as it will reveal its colors at 560 Celsius degrees.
The manufacturing process being for the most part Hand made for strategic reasons, our production will show slight irregularities in shape and colors as well as dimensional variations which guarantee an authentic evidence of craftsmanship.
---
Myth & Reality
13/01/11
THE LEGEND

Collection privée - Poterie Le Chêne Vert (30)

Vase signé Gautier – daté XX siècle
The legend takes us back to a fair occurring in year 1610 when an Anduze potter who was captivated by the elegance of a Medici vase drew his inspiration from its general shape to create the first ANDUZE planter. The result turned out to be a harmonious combination of Italian exuberance and Cevenol (meaning : from the Cevennes) austerity on a stocky bodied planter, embellished by garlands and "stamped" clay badges showing the potter's name ; since then, the ANDUZE planter has acquired its worldwide French gardens 'ornament reputation.
Originally designed to plant orange and lemon trees, these large glazed planters were displayed in gardens and orange groves to ornate Southern aristocratic properties in the past ; it is the case around the world today.

The Green Oak pottery is undoubtedly one of the last factories in Anduze to perpetuate a regional tradition of hand thrown horticultural glazed terra cotta planters and garden ornaments for interior and exterior decoration. We offer a wide collection exclusively hand made and designed in our Anduze workshop.
---
OUR "ANDUZE"

We constantly strive for the perfect balance between authenticity and elegance when hand-setting the decorative key attributes pertaining to "Our" Anduze planters' collection.

A true hallmark of our workshop is the stamped badges set on our planters. They were designed from the shape of a gold coin called"Ecu au soleil" : a beaded edged coin highlighting a shield marked by the sun which is topped with a royal crown.( the coins were weighed on a "trebuchet" a small scale exclusively used for that purpose)

In addition, each vase is dated and signed by our craftsmen after being stamped "De Anduzia" (meaning "from Anduze), a XIIth.Century coin utilized in the area of Anduze at the time. This signature validates a hand thrown production-Authenticity certificates can be issued upon demand.

Details matter in terms of ornaments and we draw our inspiration from the legacy of the Gautier dynasty, one of the most influential families of potters of the 17th Century in the vicinity of Anduze. Our largest planters display their notorious garland depicting cherubs, lilies and horns of abundance.


---
The GAUTIER dynasty
"Not only is the Gautier family one of the most ancient dynasty of potters, it has left the strongest marks in the corporation… The oldest written information found about a potter named "Gautier" takes us back to year 1560… But it is likely that the craftsmen's tradition of this family may go back further in time… When signing their planters which ornate numerous gardens, the eldest pieces being dated 1728 in the vicinity of Vauvert and 1730 in Anduze, this family left its marks in the history of the Anduze planters… We have strong reasons to believe that the Gautier were the first to make pots in Anduze during the first third of the 17th century. One may say that they have largely contributed to the prosperity of this arts and crafts industry to a point where today's potters owe them a great deal."
Laurent Tavès in Le Vase d'Anduze et les vases d'ornement de jardin, Etudes et Communication Editions, 2006
http://www.sauramps.com/spip.php?article2363
---
secrets d'atelier
04/02/10
La fabrication
A la poterie du Chêne Vert, nous sommes très attachés au maintien des savoir-faire qui ont fait la réputation du vase d'Anduze depuis des siècles et nous sommes l'une des dernières poteries à tourner la terre à la main. Un vase d'Anduze « tourné main » est monté en trois étapes avant d'être décoré. L'apprentissage du métier de tourneur prend des années, la fabrication est longue et ardue, ce qui explique pourquoi peu de potiers continuent à perpétuer ce geste pourtant bien noble.

Sur les pièces de grande dimension, le corps du vase d'Anduze est généralement préformé dans les moules de plâtres, c'est ce que l'on nomme le calibrage .

Le lissage du vase, la pose du pied, l'estampage des décors et la signature sont réalisés dans l'atelier de décoration .

Après un séchage de quelques heures à quelques jours, lorsque le vase a atteint le « toucher cuir », il peut être engobé .

Commence enfin une longue période au cours de laquelle nos vases sèchent lentement dans nos séchoirs.
Les vases sont ensuite émaillés , toujours à la main, avant d'être enfournés et cuits à plus de 1000°C pendant plusieurs heures. La traditionnelle finition flammée d'Anduze est obtenue par application d'oxydes de cuivre (coulures vertes) et de manganèse (coulures brunes) recouverts d'un émail transparent qui révèle le jaune paille de l'engobe. Ne soyez pas étonnés de voir que la plupart des vases émaillés sont gris avant cuisson, ce n'est qu'à partir de 560°C que la couleur se révèle.
L'ensemble du processus de fabrication étant resté très manuel, les irrégularités de formes et de couleurs ainsi que de légères variations dimensionnelles ne sont pas des défauts, mais bien au contraire les preuves et la garantie d'une fabrication artisanale.
---
mythe & réalité
04/02/10
LA LÉGENDE DU VASE D'ANDUZE

Collection privée - Poterie Le Chêne Vert (30)

Vase signé Gautier – daté XX siècle
Cette légende raconte qu'en 1610, un potier conquis par l'élégance d'un vase Médicis découvert à la Foire de Beaucaire, donna naissance au premier 'vase d'Anduze'. Heureuse combinaison d'exubérance à l'Italienne et d'austérité cévenole, le vase d'Anduze, au corps trapu agrémenté de guirlandes et de macarons, connaît dès lors une notoriété grandissante. Ces grands vases de terre vernissée, destinés à accueillir citronniers et orangers, embellissent les jardins et orangeries de nobles demeures. Véritables fleurons des jardins méridionaux, ils sont aujourd'hui exportés dans le monde entier. La poterie Le Chêne Vert , l'une des seules à perpétuer la gestuelle artisanale du tournage à la main, propose des vases et objets de décoration de facture traditionnelle, entièrement conçus et réalisés dans son atelier d'Anduze.

---
NOS "VASES D'ANDUZE"

La Poterie du Chêne Vert décline les principaux attributs du vase d'Anduze dans un souci constant d'authenticité et d'élégance.

Véritable marque de fabrique du Chêne Vert, le macaron s'inspire d'un poids de 'Trébuchet' (petite balance du XVème siècle) qui servait à contrôler 'l'Ecu au Soleil' : une pièce de monnaie dont le contour perlé met en exergue un blason marqué d'un soleil et surmonté d'une couronne royale.

Chaque vase, daté et signé par nos artisans, porte l'estampille 'De Anduzia' inspirée également d'une pièce de monnaie d'Anduze remontant au XIIème siècle. Cette signature authentifie une production entièrement faite main à Anduze –un certificat d'authenticité peut être délivré sur demande.

Travaillés avec une extrême finesse, nos décors trouvent leur inspiration dans l'héritage de la famille Gautier, l'une des plus marquantes dynasties de potiers d'Anduze. Nos plus grandes pièces présentent cette fameuse guirlande dont l'origine remonterait à la fin du XVIIème siècle, caractéristique des « Gautier » de Tornac figurant un angelot, des fleurs de lys et des cornes d'abondance.
---
La dynastie des Gautier
« La famille Gautier est, sinon l'une des plus anciennes dynasties de potiers, du moins celle qui a laissé l'empreinte la plus forte dans la vie de la corporation… La plus ancienne trace retrouvée dans les textes d'un potier nommé Gautier, remonte aux environs de 1560… Mais il est vraisemblable que la tradition artisanale de cette famille remonte encore plus loin… En apposant leurs signatures sur les vases qui ornent nombre de jardins, dont les plus anciennes repérées datent de 1728 à Vauvert, et de 1730 à Anduze, cette famille a marqué l'histoire du vase d'Anduze. Ces Gautier semblent être les premiers, sauf information contraire, à en produire à Anduze au premiers tiers du XVIIIème siècle. Ils ont ainsi largement contribué à la prospérité de cet artisanat, et tous les potiers qui exercent aujourd'hui lui doivent beaucoup. » Laurent Tavès in Le Vase d'Anduze et les vases d'ornement de jardin, Etudes et Communication Editions, 2006
http://www.sauramps.com/spip.php?article2363
---
Welcome
04/02/10
We cordially welcome you on our website, we look forward to sharing our passion for this jewel of Southern France with you. Worldwide famous, the Anduze planter was born centuries ago in the "Cevennes" moutains, our beautiful region.
Opening hours

SUMMER TIME July - August :
Tuesdays to Saturdays : 10am - noon & 2:30pm - 6:30pm
Sundays, Mondays & bank holidays : 2:30pm - 6:30pm
LOW SEASON September - June
Tuesdays to Saturdays : 10am - noon & 2pm - 6pm
Mondays : 2pm - 6pm
Sundays : open 2pm - 6pm from Easter to the end of August
Our workshop has been awarded the State Label "Entreprise du Patrimoine Vivant" (French Living Heritage Enterprise)
Everyday, craftsmen and women in our workshop skilfully perpetuate accurate ancestral gestures which contributed to the worldwide reputation of the Anduze vase over the years.
We have come to master the art of hand throwing, modelling and stamping the clay ; firing it once sufficiently dry to be glazed thus obtaining a full range of colours and aspects. We draw our inspiration from the combined ancient history of gardens and glazed terra cotta. The Green Oak pottery has always been a step ahead proudly claiming an innovative functioning while firmly defending an authentic French made unsurpassed hand made quality either for the traditional Anduze "Jaspered"color or its worldwide famous "Antica" patina.
Should you decide to give us the opportunity to serve you, the final use for Anduze planters is multiple and varied : balconies, flat roofs, private patios, interior decoration, swimming pool surroundings, hotel and restaurant lobbies… our customers are gardening professionals, garden centres, landscapers, home decorators, public markets and private individuals in France and around the world.
We say with great pleasure that we have made planters for Versailles, the city of Montpellier, the city of Nice-Cote d'Azur, chateau Flaugergues, the abbey of Cluny and many other prominent customers who trusted our skills. Should you seek an advice or else should you have any specific requirements, feel free to get in contact with us ; we will do our best to meet your expectations.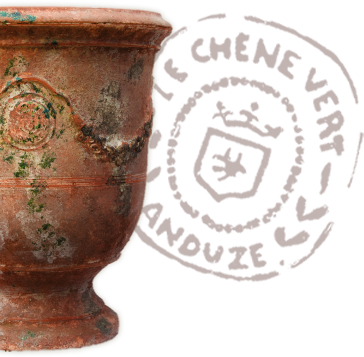 ---
Poterie Le Chêne Vert
04/02/10
Nous vous souhaitons la bienvenue sur notre site et espérons vous transmettre notre passion pour ce fleuron des jardins méridionaux né en terre Cévenole il y a plusieurs siècles : le vase d'Anduze.

Horaires d'ouverture

HORS SAISON de Septembre à Juin
Mardi au Samedi : 10h00 à 12h00 et 14h00 à 18h00
Lundi : 14h00 à 18h00
Dimanche : Ouvert le dimanche après-midi de 14h00 à 18h00 de Pâques à fin Aout

ETE en Juillet et Août
Mardi au Samedi : 10h00 à 12h00 et de 14h30 à 18h30
Dimanche, Lundi et jours fériés : 14h30 à 18h30
Dans notre atelier familial, les artisans exécutent avec une grande maîtrise les gestes ancestraux qui ont fait la réputation du vase d'Anduze : tournage ou modelage de la terre argileuse, estampage et pose des décors, engobe, émaillage et enfin cuisson. Du traditionnel 'flammé' à la patine 'antica' entièrement réalisée à la main, Le Chêne Vert a toujours su innover autour du célèbre vase, tout en défendant avec fierté une fabrication française de qualité inégalée.
Nous puisons notre inspiration dans l'histoire séculaire des jardins et des terres cuites vernissées. L'usage des poteries horticoles est multiple et varié : balcons, terrasses, parcs et jardins, bordures de piscines, décors d'intérieur, hall d'accueil… Nos clients sont des professionnels en jardinerie, architectes, paysagistes, des entreprises, des collectivités publiques et des particuliers en France et à l'export. Nous avons l'honneur d'avoir fabriqué des vases d'Anduze pour le Château de Versailles, la Mairie de Montpellier, la Mairie /de Nice Côte d'Azur, le Château de Flaugergues et de nombreux autres clients de marque qui nous ont fait confiance.
Nous nous tenons à votre disposition pour étudier toute demande spécifique et vous conseiller au mieux dans le choix de vos vases, poteries, jarres, articles de décoration en terre cuite émaillée ou patinée selon vos goûts et vos envies.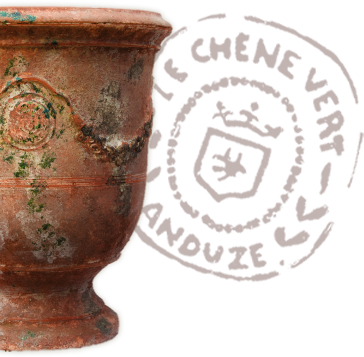 ---